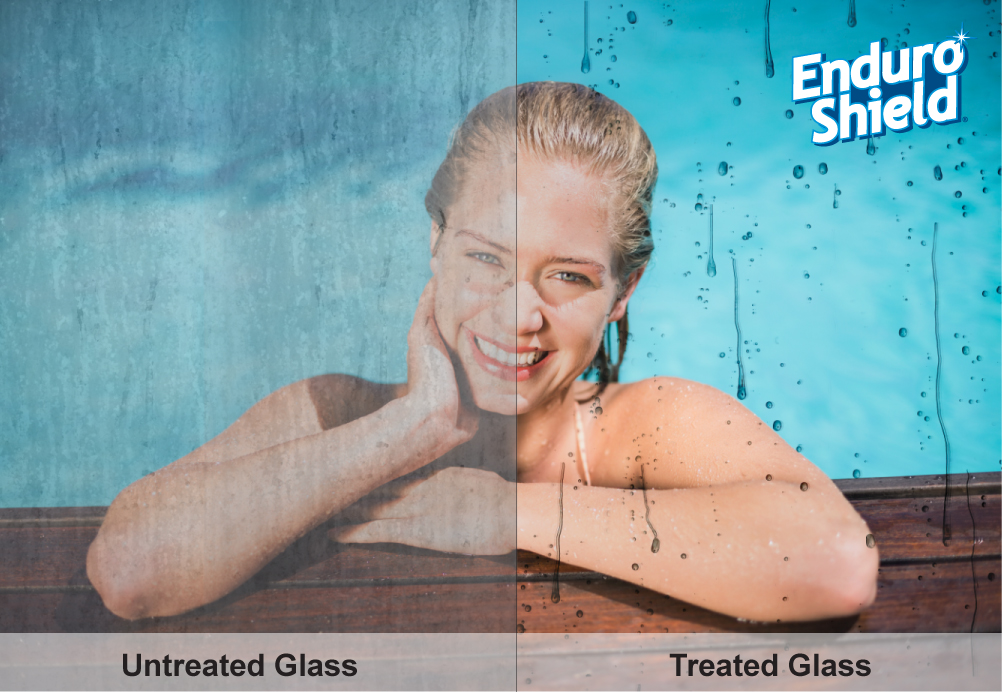 There are so many products on the market to help consumers maintain the cleanliness of their glass! For this article, we will focus on two different technologies used to accomplish the same goal of "easy clean glass". The most typical solution are glass coatings versus glass that is specifically manufactured to resist buildup. Regardless of the options you choose for your glass, we still recommend regular squeegeeing and cleaning. You can think of these options like Teflon coated cookware. It's much easier to clean, but it still needs to be cleaned.
Glass Coatings
For the sake of simplicity, glass coatings are typically applied after the glass is fabricated. There are likely dozens of options on the market, but I will cover the most common products we have used or encountered. All of the coating options are referred to as hydrophobic coatings which repels water away from the surface and are a great value for their market price. They all offer direct warranties usually requiring you to log onto their website to record the purchase information. While we are approved vendors for all of these coating options, EnduroShield is our preferred offering.
Specialty Manufactured Glass
Glass can be manufactured with a coating creating much smaller pores to prevent impurities from penetrating the surface of the glass and corroding it over time. This coating is regarded as the best quality for a easy clean solution and for its' durability. There are only a few manufacturers using this technology. The most notable is Guardian's ShowerGuard glass. In general the price is more than double than applied hydrophobic coatings.
ShowerGuard® by Guardian is an invisible coating fused to the glass surface when ShowerGuard is made. This covers the microscopic peaks and valleys that occur naturally in float glass, creating a smoother surface with little opportunity for residue to collect. It is a hydrotropic surface where water does not bead off like the hydrophobic surface of applied coatings, but it is the only non-porous glass on the market and it has the strongest lifetime warranty registered through Guardian. Your glass will come with a sticker on the outside surface for registration purposes. There is no visible difference in clarity and has the same ease of cleaning as other glass coatings. Another advantage is ShowerGuard can be cleaned using many different types of glass cleaners typically not recommended for other glass coatings. What you will notice is how great it looks for many years without any corrosion or pitting. Guardian is also offering a $25 rebate as of this article's publishing on January 5, 2022 for each piece of glass used for your shower.
LuxClear Protect by AGC is very much the same as ShowerGuard. Same technology and the same warranties.